Fire fighting means
Fires were usually extinguished in less than an hour after alarming. Fire service arrived to fire in 30 minutes in average. Small fires are extinguished within half an hour.
There were no casualties among fire fighters and civilian people during fire fighting in 2012. Fire service equipment was not heavily damaged. No death or personal injury occured during fire fighting in 2012.
Neither Fire Service nor Forest Authority served mutual assistance last year.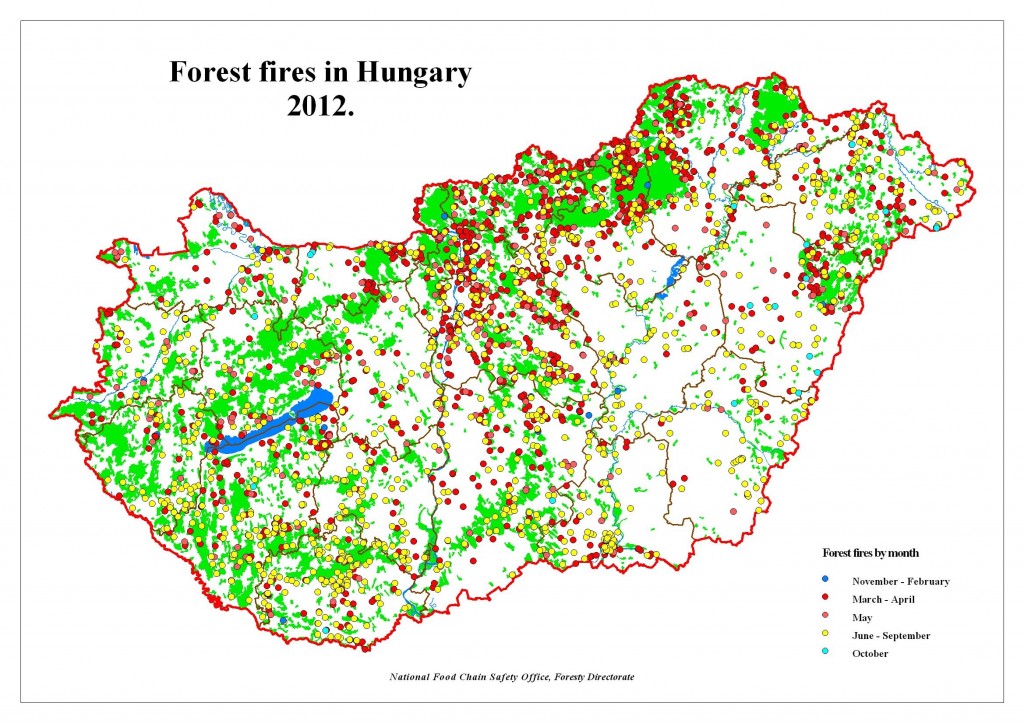 Fire prevention activities and fire information campaign
There is a cooperation agreement between Fire Service and Forest Authority. In 2012 National Fire Prevention Committee was established by the government where representatives of forest authority became members also. It is required for the committee to monitor recent fire prevention activities and fire awareness raising campaign materials.
In 2011 a special type of forest fire hazard maps were developed for fire fighters by FD. Maps can be printed and stored in their IT system also. In order to improving the map system, a Web Map Service developed by forest authority based on that special forest maps, was launched in 2012. WMS contains some special types of forest thematic layers. Fire Service has been using them in their GIS system.
Fire prevention and fire fighting activities were presented very well by spokesmen and members of National Fire Prevention Committee in the media in the frame of awareness-raising campaigns in the last fire season. Media events such as press conferences, short reports and announcements in newspapers and on the radio and TV were organised accordingly. Supplying data from fire database is daily task to forest owners, managers and media.
Use of data derived from FWI developed by JRC was integrated in the fire ban system in 2012. Its values were taken into consideration and they were analyzed throughout the whole fire season supported by JRC.
Expert presentation and demonstration about forest fire prevention and suppression were organised by FD for fire fighters many times. The webpage of Forestry Directorate is continuously updated with fire prevention information.