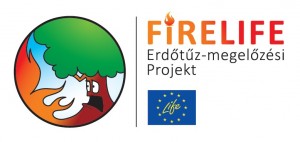 Hungarian forest fire prevention and training program – LIFE13 INF/HU/000827

DURATION: 01/07/2014 –  30/06/2018
PROJECT'S IMPLEMENTORS:Coordinating Beneficiary: National Food Chain Safety Office Forestry Directorate (NÉBIH EI)
BUDGET INFO: Total amount: 943,830.00 euro
% EC Co-funding: 48,53%
BACKGROUND and AIMS:
The incidence of forest fires has greatly increased in the last few decades in Hungary. Not only has the frequency of fires increased, but also their intensity and the speed with which they spread. This is due to climate extremes, less precipitation, the increase of mean annual temperature and a series of winters without snowfall.
99% of the Hungarian forest fires are caused by human activity.
Forest fires spread to almost 50 hectares per year.
Consequently, our project is aiming the enhance effective, proactive and continuous forest fire prevention activity in Hungary. In the first axis we wish to elaborate and provide targeted information and messages on the basis of an up-to-date communication framework-plan. Some target groups will be contacted personally.
In order to extend the range of available communication channels and better reach the specified target groups, in the second axis we are planning training courses for teachers, social workers and farm-stead caretakers. Training will also be provided for forest fire prevention experts – foresters, conservationists, fire fighters – through practical indoor and outdoor studies. The courses promote building relationships and better inter-agency cooperation on forest fire prevention.
MAIN ACTIVITIES:
Communication actions/awareness raising campaigns:
- preparation, dissemination and publication of printed information materials, advertising material, a 15-minute educational film, activity and colour books for children;
outplace information boards;
information events;
communication workshops;
direct communication.
Training activities:
Intermediate level forest fire prevention training course.
Advanced level forest fire prevention training course
EXPECTED RESULTS:
A 25% fall in the number of forest fires on forest fire hazardous days in the spring forest fire season by the end of the project;
A 30% fall in the number of forest fires in the summer forest fire season;
A 30% fall in the number of forest fires started near roads;
A 50% rise in awareness of forest fire issues among the general public in highly endangered zones and drivers who smoke;
A 70% rise in awareness of forest fire issues among school teachers, authors of schoolbooks, farmstead caretakers and social workers;
A 100% rise in awareness of forest fire issues among farmstead owners, farmers and hikers;
A 150% rise in awareness of forest fire issues among secondary, elementary and pre-school pupils in forest schools;